News & Events
Keep up to date with our current news and events here.
CHAMPION Christmas Drive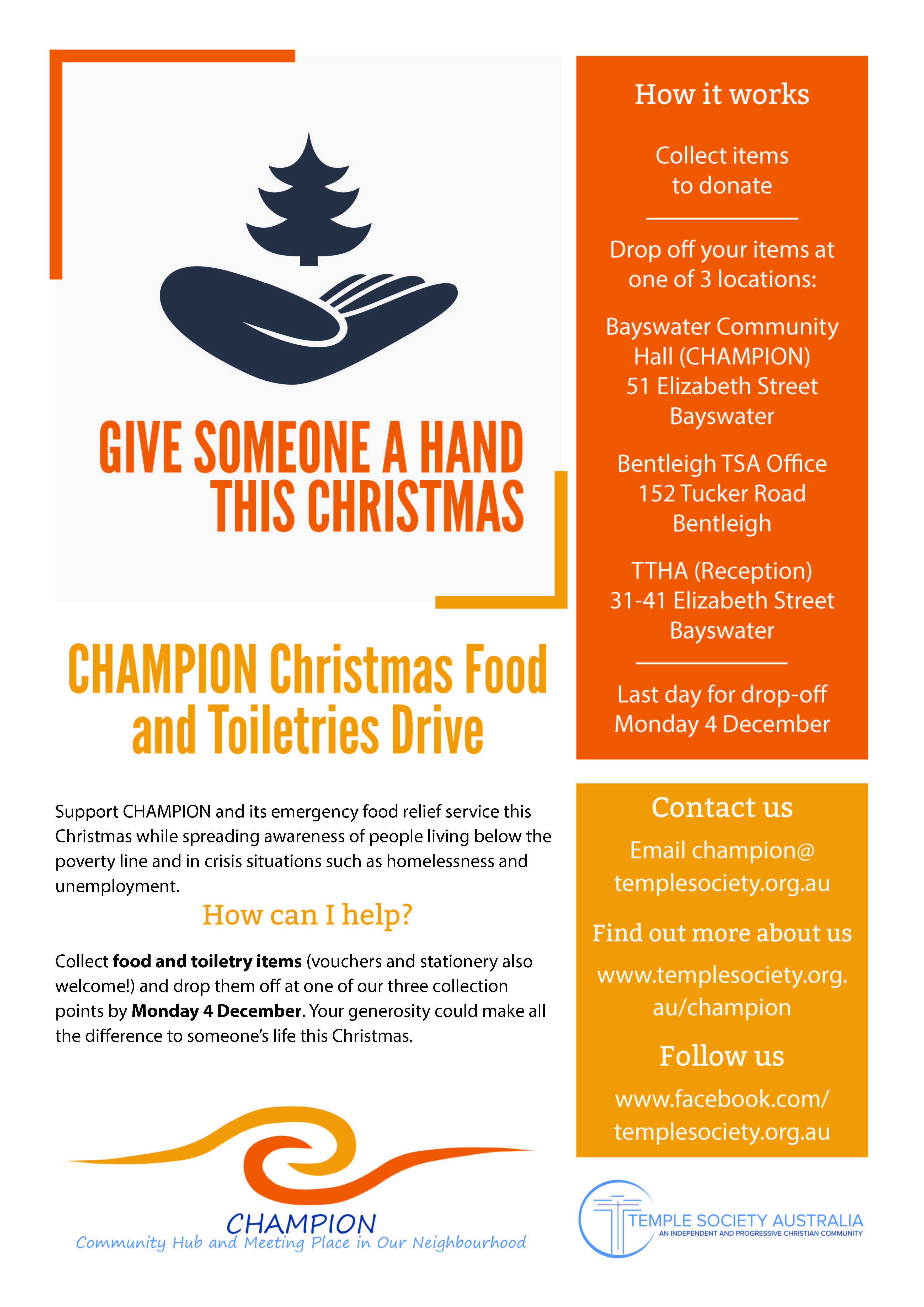 Adventsfeier and Christmas
Sydney
Sunday 17 December
Christmas Service
4.00pm
Elder: Ingrid Turner
Bentleigh
Sunday 3 December
Adventsfeier
Starts at 2.30pm
Sunday 24 December 
Christmas Eve Service
10.00am
Elder: Irene Bouzo
Bayswater
Thursday 7 December
Adventsfeier
Starts at 8.00pm
Monday 25 December 
Christmas Day Service
10.00am
Elder: Harald Ruff
ANGELS and ELVES – A COMMUNITY CHRISTMAS EVENT
Friday 22  December at 6.30pm
Bayswater Chapel
An inspirational and fun Christmas evening for all the community, incorporating:
Carol singing (with candles)
Storytelling and dress-ups
Activities
Music
Christmas supper, and Father Christmas (with a small gift for children)
Please contact Renate Beilharz on 0439 562 802 or email beilharz.renate@gmail.com if you are able to assist with any aspect of the evening; we are looking for helpers and participants of all ages.
November Services
Sunday 12 November
Service
Bayswater Chapel
Elder: Anna Beilharz
10.00am
Sunday 26 November
Service
Bentleigh Hall
Elder: Peter Uhlherr
10.00am
Sunday 26 November
Remembrance Service
Meadowbank Hall
Elder: Renate Beilharz
10.30am
Contact
For a full list of services in 2017, please contact the Temple Society Office.
Templer Community Reports 2017
Read more about the great work that has been happening in the Templer community over the past year.
Click here to download a copy of the 2017 Templer Community Reports; a collection of annual reports of our focus and interest groups.
Events
NEST Cooking Program
We have a fantastic cooking program coming up on Wednesdays in May, June and July. It is being run by Elisha from Oz Harvest and is called the NEST program, which stands for Nice, Easy, Simple Tips and Nutrition Education Sustenance Training. Workshops will be held 1.00pm-3.00pm in the Bayswater Hall and anyone of any age is invited to attend (children under 16 must be accompanied by an adult). There will be six sessions, with an emphasis on a different topic each time. You are invited to participate in the cooking (and eating) process and, best of all, the sessions are FREE (thank you to Knox City Council for the Community Development Fund grant.
Download the NEST Cooking Program flyer here
Social Dance Club
The Social Dance Group is open to all TSA members and friends and also the wider community. All ages and abilities are welcome to dance, or simply come and benefit from the music and company. No experience or partner required. Dance teacher, Kirrily Kirstin, will cover a range of very easy and enjoyable social dances including some line and circle dances.
Download the Social Dance flyer here
Moments Musical Concert
Sunday 23 July
2.00pm
51 Elizabeth Street, Bayswater
Download the Concert flyer here
Youth Anxiety
Saturday 12 August
3.00pm to 5.00pm
51 Elizabeth Street, Bayswater